You don?t have to spend a fortune to have window treatments that look luxurious and sophisticated. There are some very easy ways to dress up the existing windows without going through a lot of hassle. Here are a few ideas to help you get started. In no time at all, you can have the privacy and light control you want along with a look that you?re sure to love:
Go for Layers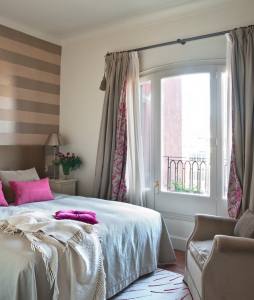 The great thing about layers is that you can use store bought treatments and there?s no sewing required. The trick is to leave the standard valances behind and go with a second layer that sits closer to the glass. One smart option is to use Roman shades directly over the window, and pair them with elegant curtains that drape down to the floor. While contrasting colors work beautifully with this type of treatment, you can also use coordinating shades for a more calming effect.
Mix Gauze and Solids
Gauzy fabrics are excellent for letting in some light, while keeping the space a little more private. However, they can leave the window looking unfinished. Another smart solution is to use the gauzy finish as a covering for the main window, with long drapes coming down at either end. You can also buy rolling shades and Roman blinds that are made with a sheer fabric for a truly high-end look if you don?t want curtains.
The Royal Scarf
Most window scarfs are designed to go straight across the window and drape down over the opening, but this may not look right on fan windows. A better option is to raise the center point of the scarf above the centerline of the fan window. This technique is so easy to accomplish, because all you need is three matching wall tiebacks in the shape of medallions. Put one above the fan window and the other two at the outermost corners. Drape the scarf across all three so that it leaves the entire window exposed, while adding some color to the space. Allow the excess fabric to pool on the floor. Finish off the window with a puffed Roman shade that covers the main area, or use shutters over the lower portion where you want more privacy.
Tab Top Curtain and Doorknobs
Tab top curtains are easy to slide over a rod, but you can take them to a new level with a collection of antique doorknobs, or small medallion tiebacks. Mount the medallions along the ceiling, Space them out so that you can hang the tab top curtains from them without pulling them tight. You?ll expose some of the wall above the center of the window while hiding the corners of the glass. The effect is incredible, yet it takes very little effort on your part.
The Right Tools for Difficult Jobs
Bay windows and walls that are built at 45-degree angles can be hard to work with. You don?t want to use three separate rods, but you still want it to look great. In this case, all you need are the right tools for the job. Visit a specialty store to buy a curved curtain rod that?s specially designed for these rounded areas. Use long drapes at either end along with fabric shades in each individual window. You won?t close the curtain, but the rod above the center of the window will still create a luxurious feel.
Natural Materials
One of the hottest design trends right now is to use natural materials whenever possible, and bamboo shades are in high demand. They add texture as well as color, and they?re available in a sheer finish to let more light in. Companies like Sunburst, which has some of the best window shutters in Las Vegas, can often custom fit your curved and bay windows for natural looking blinds like these. Mix this material with your cotton or linen drapes for a stunning and easy effect.
When it?s time to cover your windows, go beyond the mini-blinds and heavy drapes to create a more sophisticated look. Creating a classy finish doesn?t have to cost a small fortune or require a great deal of time, but you may want to get creative with your combinations of colors, textures, and layers.